"Ahh, smell that smell? That's the smell of freedom"
People from across New England will descend upon Boston Common this weekend for the Freedom Rally, an annual festival dedicated to bringing awareness to drug-related issues and reforming drug policy. The event is hosted by the Massachusetts Cannabis Reform Coalition (MassCann), a chapter of the National Organization for the Reform of Marijuana Laws (NORML).
Numerous guest speakers will be in attendance including my friend and colleague, Sean Henry Ryan, Boston city council candidate for district 6.  There will also be live performances  from 20 bands, many of which are local (one of my favorite acts is Planetoid), as well as tons of informational booths and vendors. He can also hope for an appearance by Weeda Claus, one of the event's most visible characters.  Also be on the lookout for Students for Sensible Drug Policy, of which Boston University also has a chapter.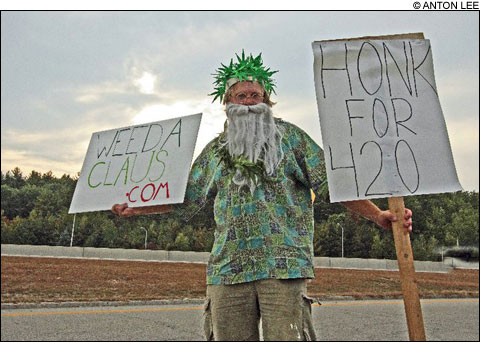 The country is moving ever so steadily toward legalizing marijuana. Marijuana in Massachusetts, while not legal, has been decriminalized meaning that violations incur only a civil penalty of a $100 fine for possession of one ounce or less.  A California ballot measure in 2010 moved to legalize Marijuana entirely but failed by about 10 percentage points despite the heavy democrat influence on the state (which is very interesting in its own right).  Oregon, Arizona, South Dakota, Vermont, and Massachusetts have also had ballot measures and are moving increasingly closer toward legalization.
Medical marijuana is a lesser of two evils approach toward drug reform. However, states that allow for operation of medical marijuana shops are threatened by federal prosecution by the Obama Administration; see this previous post.  Federal laws prohibiting states to issue business licences of their choosing (an issue in itself) carry a flagrant disregard for the Tenth Amendment. See the following Reason.tv video with Drew Carey:
Just like prohibition of alcohol in the 1920′s, the entire "drug war" is an abysmal failure. Billions of dollars spent, countless lives lost, and individual rights violated repeatedly.  Armed brutes are the only ones willing to risk life and freedom for immense profits, which continue to increase as a result of our laws and interventionism.
Is drug use smart? That's debatable. Immoral? Not a chance. So long as the non-aggression principle is not violated (i.e. do no harm), an act cannot be immoral. This is to say, people have a right to their lives and they can freely choose how to use or dispose of their bodies in any manner they see fit in accordance to their own value judgement  so long as no harm is done to other individuals. Any law that violates this simple tenet violates the most basic right of any human being – self ownership.
Upcoming Events

Sign up to receive updates on events and activities!!

Networkedblogs